I don't know how to begin, so let me welcome you with this bag.
Am I the only one that thinks this is tacky? I swear I saw this in the leftover pile at the local Ross a few weeks back. But, despite the fact that it is ugly it will still be bought by some football player's wife because of the four tiny letters that spell out Dior on the strap. Yes, all $1,755 on those letters. And maybe a fraction on the calfskin. Maybe.
This is a great piece to stir talk on the controversial John Galliano. One side will argue that Mr. Dior is rolling around in his grave. Christian Dior's haute couture has grown to be, well, tacky. It is John Galliano's personal arts and crafts time, just like what I had in kindergarten. He is depriving Christian Dior of the elegance that Mr. Dior established himself. He's producing products that are splattered with the ugly monogram for the crazy label whore that lacks knowledge of Christian Dior and its origins. But, the other side will argue that the man is genius. Just as Mr. Dior was a risk-taker in his time, John Galliano is one in this era. John may be working under the same theme but executing it in a different perspective. I don't know where to stand in this. I think I'd just be happy if Dior's haute couture was under John's name.
But, if you do decide to get the Gipsy I think they'd go beautifully with these.
I'm shitting all of you.
Anyway, here are some alternatives I've had my eye on.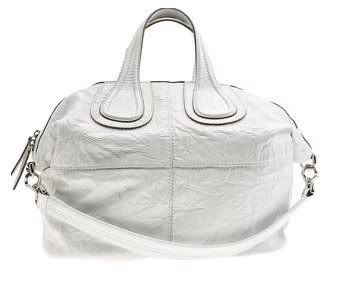 Givenchy Nightingale. Preferably over-sized, black, and not wrinkled, as worn by one of the Olsen's. I still can't tell the difference between the two and it's like I'm watching Full House and they're the same person. I don't know when over-sized will leave but I hope not soon!
Miu Miu Gathered Leather Bag. Not too bad at $1,115. Sad thing is that it's discontinued. It's okay though because I can get a fake version made in China for a fraction of the price! I'm shitting all of you again. Kind of.
Alright I'm done.
picredits - eluxury, barneys, elle